Miss McGauley IRE 749
A study of Irish mare families would hardly have included Miss McGauley. This mare, born in 1940, had four daughters. Two had no progeny, two were exported and the only granddaughter born in Ireland was exported as well. After only two generations there was nothing left of the Miss McGauley family in Ireland. However, in a study of Swedish mare families there is no doubt whether to include Miss McGauley or not.
But let's begin in Ireland and the UK. Miss McGauley's oldest daughter, Clare Dun, was born in 1947 and was by Lavalley Rebel. As a four year old she won the Killanin cup for the best young mare at Clifden show. At foot she had her first daughter, Melanie. Melanie was later exported to the UK where she became a brood mare at the Wisbridge stud, and her son, Wisbridge Albany, won the gelding class at the 1973 Brittish breed show. From Melanie's daughters I have found further progeny from Wisbridge Melrose, Wisbridge Carnea and Leys Spinney. Wisbridge Carnea seems to be the one with most offspring, whith a string of progeny with the Melverley and Mulberry prefixes. I have, however, failed to learn anything further about these.
After winning at Clifden show, Clare Dun was exported to the USA as was her second daughter, Wicklow Mountain Rose Bay. I do not know when the two mares crossed the Atlantic, whether did it together or one by one, or if Rose Bay was imported in utero. At least she is registered in both the Irish and the American stud book. Rose Bay became number 1 in the American studd book and her dam, Clare Dun was given numebr 2. From Rose Bay I have found a number of offspring with the Round Robin prefix, but I have no further information about these either.
After two daughters Clare Duns next foal was a colt, the stallion An Tostal. In 1994 he was awarded the Tooreen Laddie trophy, given to an Outstanding Foundation Sire. I believe An Tostal himself competed fairly successfully and he too has a trophy named after him, the An Tostal trophy awarded to successfully competing stallions. I have, however, not been able to find much about his own progeny, but a son, Round Robin's Indestructible won the Camlin trophy for an outstanding all-around horse in 1980. The next Clare Dun daughter, Alydun, was like her sister a brood mare at the Round Robin stud, while Clare the Lune and her daughter Stoneridge Heather went to the Tower Hill stud. Heather's great grandson, Stonybrook Finn McCool has rpoved himself a sire of show jumpers and hunter ponies.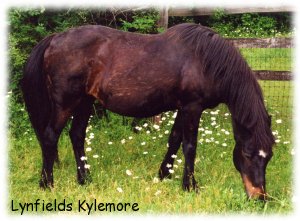 Clare Dun's following foals were born at the Round Robin stud. Her most successful daughter there is perhaps Round Robin's Easter Bonnet. In 1997 she was awarded the ACPS brood mare award. Among her progeny is Lynfields Kylemore who recieved the same award in 2005. She's also the mother of Lynfields Kiltuck who won the Tooreen Laddie trophy in 2004 and Kerrymor's Autumn Hope who won the Camlin trophy in 2005 and also the Clifden trophy for best hunter in 1992. Lynfield Kiltuck's son Kerrymor Madison won the An Tostal trophy in 2002 and Lynfield Kylemore's grand son Landgate's Bluebeard has had several daughters doing well in in hand classes. Another son of Lynfields Kylemore, Landgate's Holy Smoke was sold to Canada where he has both daughters and approved stallion sons.
After two daughters who had no offspring of their own Miss McGauley in 1960 had a last daughter, this time after Carna Dun. Autumn Holiday was her name and she was exported to Sweden carrying a foal by Clonkeehan Auratum. She was shown in hand without winning any major titles, but as a brood mare she has given rise to one of the most important mare families in Sweden.
If Clare Dun and Wicklow Mountain Rose Bay were pioneers in the American stud book, Autumn Holiday can claim similar status in Sweden. Her first foal, Brantshammar June, imported in utero, was one of the very first Connemara foals to be born in Sweden and is without doubt the most influential of Autumn Holidays foals. Among June's offspring are Brantshammar Juan, Brantshammar Juanita, Brantshammar Junito and Brantshammar Jupiter, all successful performance ponies. Brantshammar Juanita was the seventh most successful dressage Connemara in 1985. Brantshammar Jupiter was runner up in his quality test in 1983.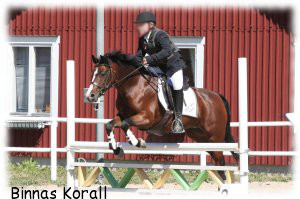 June's first daughter Brantshammar Jeuness is the dam of the stallion mother Diana. Her stallion son Apollon did a bit of show jumping, but only had four offspring. Diana also have other performance progeny. Binnas Diamant, Mr Bean II, Zeus and Nike all have competed successfully in show jumping. The Fritz has been a successful dressage pony and was the fifth best dressage Connemara in 2000. Binnas Citrin and Afrodite are both diploma mares, Binnas Diamant has been gold awarded in the show ring and Afrodite was reserve champion at a local show in 1977. Also the next generation contains performance ponies such as the part bred Gun's Honey and the pure bred Nickzon, Binnas Korall (who could be seen at last summer's breed show) and Marion Jones S. A mention should also be made of the diploma mare Spice Girl S and the eventing and dressage pony Jasmine.
The next of June's daughters was Brantshammar Juanita. She has been awarded a strong silver in the show ring and has three pure and two part bred progeny. Jennie Brown, Jehu and Benita have all competed successfully: Jehu in show jumping, Jennie Brown and Benita in dressage.
The year after Juanita her full sister Brantshammar Julie was born. Julie was a diploma mare with several golds awarded at breed shows where she was reserve champion in 1982, and at the national pony society show in 1984 she was Connemara mare champion. As a brood mare Julie has an been awarded an Elite premium as well as the Swedish Connemara society brood mare award. Julie's three stallion sons have all been important to the Connemara breed in Sweden, each in his own way. The oldest son Rolls Royce, has been gold awarded in hand several times and was supreme champion in 1983. He has also a supreme championship at a local show and was reserve supreme champion at the national pony society show in 1984. It is, however, as a sire that Rolls Royce has been most influential. He holds an Elite premium and has a number of diploma daughters, gold awarded offspring with supreme, best of breed and youngstock championship titles at local shows. Two daughters, Bonnie and Celisia have themselves been awarded Elite premiums. Even more successfully has Rolls Royce passed on performance genes: Quality test winners and three-year-old test award winners. Ragnarps Ismene won the three-year-old finals for promising dressage ponies in 2004 and Ragnarps Royce Robot won the young pony championship for five-year-old dressage ponies in 2006. Among the older offspring Cyrrano have double team golds at the European eventing championships, Chapman has an individual gold at the Nordic eventing championships and Lipton II has an individual 13th place at the European dressage championships as his greatest success. Chapman, Cyrrano and Lipton have all been among the top ten Swedish ponies in their respective discipline.
Julie's second stallion son, Rolls Royce's full brother Juno Rory, is perhaps the most successful dressage Connemara ever in Sweden. During the whole 90-ies he dominated the among the 130 - 140 cm high ponies with a number of different riders. He was the most successful dressage Connemara (all categories) no less then six times and was second twice and third twice. Among all dressage ponies of all breeds he held the top position three years, was runner up twice and featured in the hop ten no less than eight times. Furthermore Juno Rory has four Swedish dressage championship golds, two team silver, an individual bronze from Nordic dressage championships and a number of wins at large Swedish pony dressage competitions. In the show ring Juno Rory has been gold awarded and he also scored highly at his stallion inspection. Due to his dressage carreer Juno Rory has a limited number of offspring, but among these you will find several gold awarded progeny, and Dancing Shadow was reserve champion at last years local show in Ångelholm. Other offspring have been awarded diplomas and have done well in three-year-old and quality tests, and Dancing Shadow and the stallion son Golden Garlic have both been second in the Connemara dressage championships.
Julie's third son is the not completely unknown Janus. Janus has had a successful in hand career with a large number of golds, both at breed shows and local shows. At the breed show he has been reserve champion on three occasions and was supreme champion in 1999. I can also count no less than six supreme championships at local shows. As the first Swedish stallion Janus has also been standing in Ireland where he also have been successful in the show ring, for example as Connemara champion at Dublin Horse Show. Janus has alson been a successful sire. He has at least eight dimploma daughters, many gold awarded offspring and Janus has been gold awarded in the breed show progeny class at several occasions. Ronja II and Wooldpacks Sweetie Pie have been reserve youngstock champions at the breed show, Långarnö Joleen and Shade's Cailin have been reserve supreme champions and Shade's Cailin and Juvelin have been supreme champions twice and once respectively. Not to mention the Janus offspring with titles from local shows. Janus offsprinng have also had performance suceesses: winning at quality tests, three-year-old test awards and high placings at the Connemara championships in dressage and show jumping. This year Lidens Mir Li won the dressage Connemara championships and Mardröm was second in the show jumping Connemara championships.
Two of Julie's sons who didn't make it as stallions, Jukam and Julius, instead became good performance ponies. Jukam was third at the quality test and later competed in both show jumping and dressage. Julius also competed in show jumping but mainly in dressage and in 1986 he was the eigth best dressage Connemara.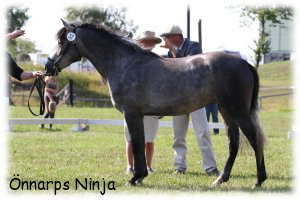 Looking at Julies daughters, they too have had their success in the show ring. Janice won the yearling filly class at the 1982 breed show and Jocelinn has twice been gold awarded at the breed show. Janice, Jaynie and Jeuness have all competed in show jumping. Several of Julies daughters have also done their part as brood mares. Jeuness is the dam of Dayana Rose who in her turn is the dam of Gibson. He started his career with a dressage award at the three-year-old test and was sixth in the national finals. He proved this was no mere coincident the next year with high scores for both dressage and jumping. Jaynie is the dam of the diploma mare Crispie, Juliette IV with double golds from breed shows and Canyon Haze, gold awarded at last year's local show in Ängelholm. Also Jocelinn has a diploma daughter in Josephine. Josephine has also been gold awarded at the breed show and her two daughters, Önnarps Lollipop and Önnarps Ninja have both a dressage award at three-year-old tests. Ninja is furthermore a diploma mare.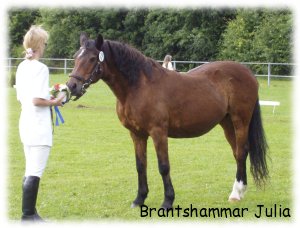 Brantshammar June's next daughter was Brantshammar Julia, born in 1974. She had six progeny of whom Golden Lily have competed in show jumping. At the age of 30 Julia took part in the veterans class at the local show in Ängelholm and was awarded a silver. The following year she came forward at the breed show and was awarded a gold. Not bad for a 31-year-old! With her next foal June became a stallion mother. Brantshammar Julius was approved and stood at stud for five years in Sweden before being exported to Finland. Amon his Swedish get is Thirteenth Holiday, gold awarded class winner at the breed show. In Finland Julius primarily had offspring with the V.V. prefix, but I have little further about them. One daughter, V.V. Kleopatra is a stallion mother and a son, exported to Estonia, V.V. Huck Finn, is rumoured to breed riding ponies there. Of the rest of June's foals I feel two deserves a mention before moving on. Brantshammar Juliette is a diploma mare and as a yearling she won her class at the breed show and at the 1985 local show in Enköping she was gold awarded. Brantshammar Justine has been gold awarded at the breed show and her son Cassijus has a three-year-old test dressage award.
Brantshammar June was without doubt the most influential of Autumn Holiday's offspring. After her Autumn Holiday had an additional foal at Brantshammar, Brantshammar Jane. She has four registred progeny, but I haven't found much further about them. Nor have I found much about the rest of Autumn Holiday's offspring. Some have been shown in hand, but not with any major titles. Sunlight Holiday did manage a fairly strong silver at the breed show and Thirteenth Holiday mentioned above (and thus line bred to Autumn Holiday) of course has her gold. However, I shouldn't finish the family without first mentioning Autumn Holiday's grandson Nobby Boy who has been a successful show jumper. Finally, it seems fair to say that although Miss McGauley may not have provided a particularly large family, still, through some very strong lines have had great success in the US and Sweden.
---
You can find more information about Stoneybrook Finn McCool at the ACPS website.
---
Many thanks to Jocelyn Davies for providing additional information about Landgate's Holy Smoke.
---
The following information about Clare Dun and Wicklow Mountain Rose Bay was provided by Carole-Terese Naser. (Somewhat edited for length.)
Clare Dun and Wickie (Wicklow Mountain Rose Bay) were owned by Mrs. Charlotte Read who was the second importer of Connemaras into the US. Wickie and Clare Dun were imported at the same time, sometime in the late 1950s. They traveled by freighter across the Atlantic, and apparently Wickie struggled so mightily that she ruined her legs during the voyage. She was never ridden thereafter, and was exclusively a broodmare. Wickie was very stocky, coarse in build with a very cresty neck. Clare Dun was by contrast, smaller and more elegant, with smaller refined features. She was a lovely dark dun, with liquid eyes, smaller than Wickie.
Clare's daughter Alydun was a farm favorite. She looked like her mother and was grey and very pretty. Carole-Terese bought one of her offspring, Round Robin's Foxglove, as a 2 year old and later evented him and won numerous events, hunter and cross country events. Fooxglove could jump 4 foot fences from a standstill. He was also elegant, with an outstanding extended trot, and won numerous dressage events at the Training and Prelim levels. Sadly he died at age eight of poisoning, the origin of which was never discovered.
In addition to being an early importer, Mrs. Read must be remembered for taking all of her ponies back to Ireland in 1972 or thereabouts. She and husband Richard decided to move to Ireland and they flew 9 ponies over. Clare, Wickie, Tostie (Clare Dun's son An Tostal), and Alydun all made that trip. However, things did not work out in Ireland. So a year or so later, the Reads came back to the U.S. with all the ponies once again.
The Round Robin ponies always won the hunter classes. They were heads above the competition in ability and forward movement and never stopped at anything. An Tostal - Tostie - was evented by both Mrs. Read and her daughters. What Carole-Terese recalls most about the Round Robin ponies is their forwardness. They simply did not stop at fences. Foxglove was hard to keep in a pasture, as he simply trotted over our fences whenever he felt like it. Looking back, Carole-Terese says Alydun was probably the best of all those mares. "She was simply lovely."
Link to newspaper article about Mrs Reads move to Ireland.
A big thank you to Carole-Terese for this.
---
Miss McGauley IRE 749 (Ire)


Clare Dun IRE 1266, USAM 2 (Ire, USA)


Melanie IRE 1527, NPS 10419 (Ire, UK)


Wisbridge Melrose NPS 13881 (UK)


Cheviot Zebedee NPS G 584 (UK)


Cheviot Jasmin NPS 15937 (UK)


Cheviot Gypsy Rose NPS 16429 (UK)


Wisbridge Montrose NPS G 1231 (UK)


Wisbridge Albany NPS G 220, IRE G 504 (UK)


Hungry Hall Maximillian NPS G 900 (UK)


Hungry Hall Tang NPS G 640 (UK)


Wisbridge Sweet Afton NPS 16002 (UK)


Wisbridge Carnea NPS 12408 (UK)


Merverley Sandelwood NPS 13333 (UK)


Melverley Surprise NPS 4895, NPS G 298 (UK)


Melverley Cinderella NPS 13852 (UK)


Mulberry Monarch NPS 5263 (UK)


Mulberry Mitten NPS 14608 (UK)


Mulberry Minnie NPS 14956 (UK)


Mulberry Moonlight NPS G 856 (UK)


Mulberry Mist NPS 15902 (UK)


Mulberry Mouse (UK)


Mulberry Mac (UK)


Mulberry Matilda GBRM 957 (UK)


Trident (UK)


Mulberry Miranda (UK)


Hearnesbrook Mizen (UK)


Mulberry Mariner NPS G 1343 (UK)


Mulberry Mimi GBRM 104 (UK)


Mulberry Mab GBRM 500 (UK)


Trident Dooneen Millie (UK)


Mellow (UK)


Leys Spinney (UK)


Shady Deal (UK)


Leys Copper Beech (UK)


Wicklow Mountain Rose Bay IRE 1766, USAM 1 (Ire, USA)


Round Robin's Rainy USAS 65 (USA)


Round Robin's Quest USAS 82 (USA)


Round Robin's Mountain Mist USAM 267 (USA)


Round Robin's Mountain Echo USAM 299 (USA)


Lorien's Fen USAM 1159 (USA)


Greystone Echo's Megan USAM 1255 (USA)


Ridgetop Windy City (USA)


Round Robin's Mountain Top USAS 202 (USA)


Round Robin's Mountain Dew USAM 560 (USA)


Sparkler USAM 797 (USA)


Round Robin's Yodel G 99 (USA)


Round Robin's Mountain Magic G 132 (USA)


Round Robin's Rosemount USAM 799 (USA)


Round Robin's Butter Brickle USAM 838 (USA)


Round Robin's Kiltee G 343 (USA)


An Tostal USAS 17 (USA)


Alydun USAM 91 (USA)


Round Robin's Rally USAS 104 (USA)


Round Robin's Patriot USAS 81 (USA)


Round Robin's Crusader USAS 122 (USA)


Round Robin's Drummer Boy USAS 163 (USA)


Round Robin's Telstar USAS 200 (USA)


Round Robin's Andante G 26 (USA)


Round Robin's Foxglove G 48 (USA)


Round Robin's Who-Dun-It G 101 (USA)


Round Robin's Allspice USAM 683 (USA)


Conaco's Aran G 511 (USA)


Round Robin's Reveille USAM 798 (USA)


Round Robin's Swamp Fox G 354 (USA)


Clare de Lune USAM 145 (USA)


Stoneridge Rainy Boy USAS 186 (USA)


Stoneridge Heather USAM 810 (USA)


Tower Hill's Donegal USAS 404 (USA)


Tower Hill's Kilkieran Bay G 372 (USA)


Tower Hill's Tipperary USAM 1027 (USA)


Tower Hill's Glendalough USAM 1145 (USA)


Tower Hill's Eoghan USAM 1194 (USA)


Stonybrook Finn McCool USAS 504 (USA)


Stonybrook Carelle (USA)


Stonybrook Ruirech (USA)


Stonybrook Galway Lad (USA)


Tower Hill's Grace O'Malley USAM 1287 (USA)


Tower Hill's Magh Mar G 569 (USA)


Tower Hill's Kilbrittain USAS 423 (USA)


Tower Hill's Killaire USAM 1146 (USA)


Tower Hill's O'Brien G 522 (USA)


Tower Hill's Maggie USAM 1290 (USA)


Tower Hill's Erin USAM 1311 (USA)


Tower Hill's Killian USAM 1149 (USA)


Tower Hill's Limerick G 487 (USA)


Tower Hill's Cormac G 630 (USA)


Tower Hill's Elphin USAM 1011 (USA)


Tower Hill's Skibbereen USAS 403 (USA)


Tower Hill's Wicklow G 521 (USA)


Tower Hill's Sorcha USAM 1094 (USA)


Round Robin's Rebel USAM 186 (USA)


Round Robin's Race USAM 214 (USA)


Round Robin's Reward USAM 226 (USA)


Lynfields Duffy G 57 (USA)


Round Robin's Easter Bonnet USAM 300 (USA)


Lynfield's Misbeat USAM 539 (USA)


Moon For the Misbegotten G 410 (USA)


Lynfields Sinn Fein G 124 (USA)


Lynfields Killary Bay USAM 763 (USA)


Lynfields Finn Mac Cool USAS 300 (USA)


Sean of Thunder Rock Farm G 212 (USA)


Lynfields Tulira Lass USAM 835 (USA)


Lynfields Kylemore USAM 854 (USA)


Dilphedi Flanagan G 462 (USA)


F.F. Princess Daisy USAM 1297 (USA)


Landgate's Singing Bird USAM 1436 (USA)


Landgate's Bluebeard (USA)


Landgate's Nimbus 2000 (USA)


Landgate's Wild Wing (USA)


Landgate's Phoenix (USA)


Landgate's Holy Smoke (USA, Can)


Ian's Hope (USA)


Day Star's Briarpatch Mac USAS 512 (USA)


F.F. Sparrow Hawke (USA)


F.F. Cat Byrd (USA)


F.F. Admiral Havoc (USA)


Lynfields Killaloe USAM 907 (USA)


Lynfields Kiltuck USAS 402 (USA)


Kerrymor's Autumn Hope USAM 1019 (USA)


Dun Laoghaire G 25 (USA)


Round Robin's Carousel USAM 638 (USA)


Round Robin's Celebration USAM 957 (USA)


Round Robin's Yours Truly G 484 (USA)


Round Robin's Royal Abbey G 232 (USA)


Lightfoot IRE 1576 (Ire)


Patch IRE 1901 (Ire)


Autumn Holiday IRE 2200, RC 83 (Ire, Swe)


Brantshammar June RC 34 (Swe)


Brantshammar Jeuness RC 119 (Swe)


Diana RC 273 (Swe)


Afrodite RC 367 (Swe)


Acke Kälderman 33-81-2122 (Swe)


Aron Kälderman 33-83-2504 (Swe)


Annemone RC 585 (Swe)


Jasmine 33-89-3193 (Swe)


Scarlet Pimpernell 33-91-3336 (Swe)


Gun's Honey 45-85-1031 (Swe)


Whipped Cream (Swe)


Nike RC 407 (Swe)


Nickzon 33-81-2246 (Swe)


Apollon RC 48 (Swe)


Xanthos 33-85-2546 (Swe)


Binnas Diamant 33-88-2980 (Swe)


Binnas Citrin 33-89-3283 (Swe)


Binnas Korall 33-97-4539 (Swe)


The Fritz 33-90-3266 (Swe)


Potomac 33-91-3384 (Swe)


Philur 33-92-3560 (Swe)


Mr Bean II 33-93-3908 (Swe)


Yankie Girl RC 1063 (Swe)


Marion Jones S 33-99-4887 (Swe)


Mosquito R 33-03-5192 (Swe)


Scarlett Pimpinell S 33-00-4889 (Swe)


Spice Girl S 33-01-4997 (Swe)


Rory (Swe)


Macarena S 33-96-4311 (Swe)


Fortuna 33-73-0652 (Swe)


Pallas Athene 33-74-0779 (Swe)


Zeus 33-75-0958 (Swe)


Brantshammar Juan 33-69-0232 (Swe)


Brantshammar Juanita RC 213 (Swe)


Jennie Brown 33-75-1095 (Swe)


Jessie Brown 33-76-1091 (Swe)


Justus 33-88-2920 (Swe)


Jehu (Swe)


Benita (Swe)


Brantshammar Julie RC 250 (Swe)


Julius 33-76-1294 (Swe)


Jukam 33-77-1536 (Swe)


Juanita RC 407 (Swe)


Jeuness RC 712 (Swe)


Marble's Queen 33-91-3565 (Swe)


Dayana Rose RC 1072 (Swe)


Gibson 33-01-5012 (Swe)


Liljegårdens Amber 33-03-5225 (Swe)


Liljegårdens Bellis 33-04-5331 (Swe)


Silfverrose Pamina 33-94-4087 (Swe)


Just in Time 33-97-4254 (Swe)


Just A Miss RC 1088 (Swe)


Knasen 33-99-4726 (Swe)


Labolina 33-00-4821 (Swe)


Mimmi Mouse 33-01-5003 (Swe)


Rolls Royce RC 49 (Swe)


Janice RC 505 (Swe)


Janina 33-85-2837 (Swe)


Juno Rory RC 56 (Swe)


Juhlen 33-83-2416 (Swe)


Jaynie RC 841 (Swe)


Canyon Haze 33-97-4976 (Swe)


Juliette IV 33-98-5219 (Swe)


Crispie 33-02-5177 (Swe)


Sparvöga (Swe)


Kärringkulla Jinn 33-05-5573 (Swe)


Julien 33-85-2686 (Swe)


John Ross 33-86-2780 (Swe)


Jocelinn RC 720 (Swe)


Jenna 33-92-4281 (Swe)


Juan 33-93-4092 (Swe)


Julie RC 1114 (Swe)


Remember Me 33-02-5169 (Swe)


Keep Waiting For Me 33-03-5315 (Swe)


Run Run Rudolph 33-05-9090 (Swe)


Jarrod 33-95-4090 (Swe)


Jasmine III 33-96-4573 (Swe)


Josephine RC 1044 (Swe)


Önnarps Lollipop 33-02-5471 (Swe)


Önnarps Ninja 33-04-5585 (Swe)


Juventus 33-98-9038 (Swe)


Joanni 33-00-4857 (Swe)


Janus RC 71, IS 13 (Swe, Irl)


Brantshammar Junior 33-73-0640 (Swe)


Brantshammar Julia RC 316 (Swe)


Julius II 33-78-2906 (Swe)


Junette 33-81-3057 (Swe)


Jullan 33-85-3063 (Swe)


Golden Lily RC 648 (Swe)


Golden Sunshine 33-91-3476 (Swe)


Juliette II 33-89-3293 (Swe)


Nightflower Julie RC 909 (Swe)


Ofelia III 33-96-4345 (Swe)


Tyson 33-97-4280 (Swe)


Brantshammar Julius RC 31, 4 C (Swe, Fin)


Brantshammar Jum Jum 33-76-1240 (Swe)


Brantshammar Jussi 33-77-1444 (Swe)


Brantshammar Jonathan 33-78-1658 (Swe)


Brantshammar Joakim 33-79-1768 (Swe)


Brantshammar Junito 33-80-1914 (Swe)


Brantshammar Justus 33-81-2076 (Swe)


Brantshammar Juliette 33-82-2425 (Swe)


Brantshammar Jupiter 33-83-2376 (Swe)


Brantshammar Justine RC 565 (Swe)


Cassijus 33-88-2910 (Swe)


Sunday Girl 33-89-3227 (Swe)


Ida 33-91-3531 (Swe)


Celine 33-00-4873 (Swe)


Brantshammar Jane RC 60 (Swe)


Janito 33-69-0241 (Swe)


Janica RC 257 (Swe)


Jessica II 33-76-1449 (Swe)


Jena 33-74-0847 (Swe)


Jenina 33-78-1833 (Swe)


Jesper 33-76-1314 (Swe)


Summer Holiday 33-66-0058 (Swe)


Swingin' Holiday RC 150 (Swe)


Nobby Boy 33-73-0720 (Swe)


Star Holiday 33-70-0370 (Swe)


Sunlight Holiday 33-71-0867 (Swe)


Sweet Holiday 33-72-0612 (Swe)


New Holiday 33-75-1060 (Swe)


Spring Holiday 33-77-1609 (Swe)


Suave Holiday 33-78-1777 (Swe)


Suddenly Holiday 33-79-1965 (Swe)


Miss Holiday 33-83-2571 (Swe)


Thirteenth Holiday RC 633 (Swe)


Toodleloo Holiday RC 884 (Swe)


Holiday Poetry 33-03-5327 (Swe)


Jumping Holiday 33-81-2032 (Swe)


Mac Holiday 33-82-2182 (Swe)


Merry Holiday 33-83-2460 (Swe)
© Jenny Hagenblad, 2008