Dolan Rose IRE 1132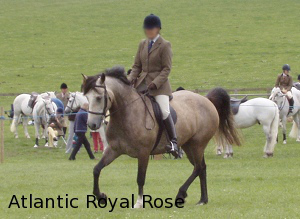 Some mare families are large and well established and thanks to themes in the naming of the ponies it is easy to guess which family a pony belongs to. Other families are run a more anonymous existence with few members. And then there are the ones who are large and well established but that one just never have understood how big they are. For me the Dolan Rose family turned out to belong to the latter category.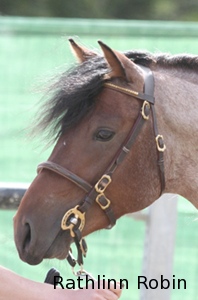 Mac Dara is one of the great sires of the Connemara breed, who during the 50ies and 60ies won his class at Clifden show no less than five times, was second twice and third once. As a sire he has had numerous successes and here in Sweden alone we have offspring such as the gold awarded Slieve Dara, Abbeleix Judy and Glasderrymore Honey; the performance ponies Oldtown Bridge in show jumping and Rose of Abbeyleix with SM medals in dressage, show jumping and eventing and with an Elite premium as a brood mare, just like her sister Rambling Rosie. It seems reasonable to assume that Mac Dara's dam Dolan Rose wasn't just any mare, but what did she produce beyond Mac Dara?
Dolan Rose, a grey mare, was born in 1944 and was one of Lavalley Star's many good daughters. In the Irish stud book she has no dam listed, but in the edition of the Swedish stud book that was released a few years ago and in the Swedish Horse Board online database, her dam is given as Rambling Rose IRE 233, a black mare born in 1930 whose only registered daughter Young Rose have no registered offspring of her own.
Mac Dara was Dolan Rose's first registered foal and her only stallion son. Not until 1963, as a 19-year-old, did she have her second registered offspring, Inishnee Lady. It seems likely that there were other foals in between who were perhaps sold out of Connemara before registration, or who was registered without having the name of their dam noted in the stud book. Inishnee Lady did, however, and as a yearling she won her class at Clifden show. Two years later she was exported to Denmark and the Holen stud. Lady had eight foals at Holen of which two were exported to Sweden. Her son Holens Ingolf, or "Grållen" (the Grey), came to Sweden in 1972 and I owe him a personal debt as the sire of the best riding school pony in the world sometimes during the 80ies. Some fifteen years later, in 2001, I had the pleasure of seeing Grållen be gold awarded and win the veteran class at the breed show. Looking in his progeny list there are gold awarded ponies like Jolly Ingo, Mindy Might, Daphne McCann and of course Shansi, twice reserve supreme champion at the Swedish breed show. The diploma mares Afrodite and Rosie and Elite premium mare Lindens Linda not to be forgotten and of course the preformance offspring: Starrhult Bingo with a jumping award from the three-year-old test and the young pony championships winner High Ideal, Bobby II who competed dressage up to the Nordic Championships and Idholmens Bobby an Sweet Maire Brown who both competed in show jumping. Ingolf's one year younger full sister, Holens Iris, came to Sweden the year after her brother. She was the dam of four foals of which the youngest son, Primo, has been a succesfull performance pony competing in both show jumping and dressage from the late 80ies to the early 00ies.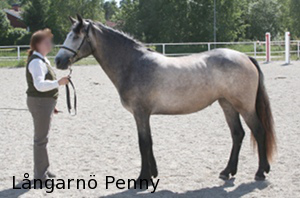 The year after Inishnee Lady, Dolan Rose gave birth to the daughter who gave rise to the strongest branch of the family, Errisbeg Rose. Errisbeg Rose is registered as a bay roan and was born in 1964. Her oldest registered daughter was born in 1971 and was given the name Spiddal Rose. She was exported to Sweden in 1973 and was shown in hand a couple of times with a third place and a gold award at the Hagen show 1997 as her best result. Among her progeny are Hummelbro Rosett, class winner at a 1977 local show; Spiro Jagger, gold awarded class winner at the breed show; Spiro Invito, quality test winner and successfully competing in show jumping and dressage and the jumping ponies Chagalla Rose and Hummelbro Stella. Her last foal, Spiro Invain, Spiddal Rose had in 1996 when she was 25 years old. The foal was line bred to Dolan Rose having Holens Ingolf, at the time 26 years old, as its sire. Surely a record in terms of parental age. Also in the following generations we find good performance ponies: Windy Star and Hagens Rosie (also gold awarded and Best of Breed at a local show) both have show jumping competition points and Snow-Ball has points in dressage. Hagens Viktor has been very successful driven and has a four-in-hand Swedish Championship gold and an eighth place at the World Championships to show for his efforts.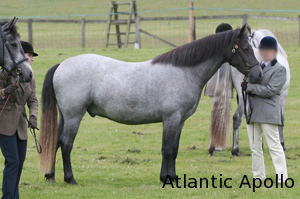 Errisbeg Rose has made an important contribution to the European Connemara scene through her stallion sons of whom many have first done well in the youngstock classes of Clifden show. Van de Arenbosch Davey was second at Clifden show as a yearling and was later exported to the Netherlands where he sired premium mares like Brandy and New Mornings Gentle Dance and the 1983 champion at the dutch breed show, Van de Arenbosch Sjoukje. King's Ransom, another of Errisbeg Rose's sons won his class as a yearling but instead went to the UK. Among his offspring are in hand winners at the British breed show like Laudale Rannoch, Spinway Bright Morning, Spinway Kittiwake, Spinway Reward, youngstock champion 1982, Spinway Variation and Spinway Windflower, reserve supreme champion in 1992. On the performance side King's Ransom have among others Spinway Sea Nymph, second in the British Performance Award Scheme 1988 and in 1982 he won the progeny class at the British breed show. Not long after he was exported to France.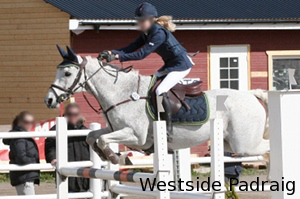 Michael Kim, Errisbeg Rose's son from 1974, was third at Clifden show as a yearling. He was exported to the Netherlands, but I have been unable to find any further information about him. His brother from 1979, Toxi Baun Bob was he too third at Clifden show as a yearling. He was exported to Germany and where he had a successful breeding career. Among his offspring are the stats premium mares Fiona van Altnhof and St. Children's Dream and at the German breed show St. Children's Dream, St. Torbax and Twilight Burning have all won their classes. St. Children's Dream was in addition youngstock champion at the 1991 North German show. Her last son Errisbeg Rose had as a broodmare at the Spinway stud after being exported to the UK. Spinway Keepsake was exported to Austria where he sired Kohlreit Camilla, Supreme Champion at the 2000 national pony show and the German Lickeen Nene, reserve mare champion at the 2002 South Germany show and reserve ridden champion in 2003. The performance genes are also noted in the Danish-based dressage pony Hightower Tirol and the English-born Spinway Memento who has represented Poland at the European eventing championships during the past two years.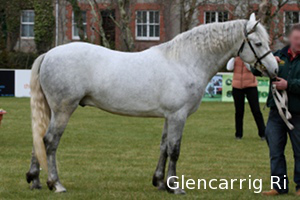 If Errisbeg Rose's sons have spread her and Dolan Rose's genes all over Europe her daughters have done just as much. Errisbeg Dolly was Errisbeg Rose's 1976 daughter. Among her progeny are the gelding son Killyreagh Mistral who was ridden champion at the 1996 Clifden show. Her daughter, April Rose, has instead subscribed on second places and been second at the Clifden show no less than seven times, most recently last year in the progeny class. Another descendant of Errisbeg Dolly is the Swedish Chica Chubb, a part bred show jumper by a thoroughbred sire. Another branch of the family, through Bar Bar A's Rebel Doll, leads west across the Atlantic. Here we find Roscommon Liadan, reserve supreme champion at a regional Connemara show in 2007. Among April Rose's progeny we find Glencarrig Rose Marie, reserve youngstock champion at the 2010 Clifden show and supreme and reserve supreme champion at a number of local shows during 2010 and 2011. Glencarrig Rose, Glencarrig Róisín and the French export Grey Rock Tina are other daughters of April Rose who have been highly placed at Clifden show and local shows. Another branch from Errisbeg Dolly comes though Letterdyfe Dolly, dam of Glencarrig Fiona, repeatedly in the ribbons at Clifden show and Ivy Rock Prince, reserve ridden champion at the 2011 British Ridden show, and granddam of the French class 1 mare, Emlagharan Duchess.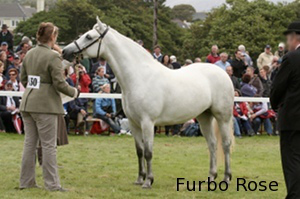 Towards the end of the 70ies Errisbeg Rose was sold and her progeny were now given the Atlantic prefix. First was Atlantic Rose, who was second at Clifden show as a three, four and five-year-odl. Several of her descendants have also done well at Clifden show: Atlantic Luly won the foal class in 1984, Aran Suzy was placed third in 1992 and Furbo Rose have twice won at the Dublin Horse Show. From the daughter Atlantic Beauty we have in Sweden the import Innellan Peace, diploma mare and gold awarded at the breed show and local shows. Her daughters LŚngarnš Penny has walked in her dam's hoof prints and is also a diploma mare with golds at the breed and local shows. Penny has also been to Norway where she has endowed the breed with a couple of progeny. Atlantic Rose seems to have carried performance genes as well even though she herself never had the opportunity to perform under saddle. A gelding son, Hearnesbrook Mairtin, has been a successful show jumper in Norway and the stallion son Atlantic Raven, is the sire of among others the Swedish export Cleggan Lass competing in show jumping and dressage; Ardfry Whiskey Mac and Sea Rebel, reserve ridden champions in 1998 and 1996 respectively; Coppindell Vega, suggessful in ridden classes; Bailie's Raven several times German ridden champion and Glenford Scot, winner of the puissance class at the 2009 Clifden show. Atlantic Lily's daughter Aran Suzy had a jumping career becoming a Grade A jumper, but also had a couple of foals, among them Westside Padraigh, Swedhish export and highly successful in the show jumping arenas since the late 90ies. On his CV are several individual and team medals from the Swedish and Nordic show jumping Championships and representing Sweden at the 2006 European show jumping championships.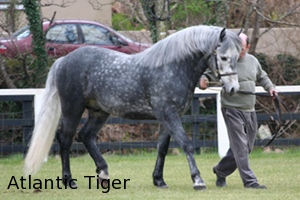 Errisbeg Rose's daughter Atlantic Peace was very popular at Clifden show. She wan her class as a three-year-old and then again at four, five and nine years of age. In 1985 she was also reserve champion at Dublin show and in 2005 she was third in the Clifden show progeny class. Her most successful offspring has without doubt been Atlantic queen of Peace with numerous to three placings at Clifden show and a third in last year's progeny class. Atlantic Dove and Atlantic Prince of Peace have done well in the UK show ring. From these and the oldest daughter Atlantic Pride there are additional successful ponies both in Ireland and the UK. Atlantic Apollo is a class winner from the British breed show and Atlantic Tiger from Clifden show. Haselor Topaz was foal champion at the British breed show and Atlantic Prince of Peace is the sire of British in-hand winners like Walstead Pageboy, Walstead Prince Regent and Walstead Lady Penelope. Under saddle are names like Braemar Be Lucky who has qualified to the ridden championships at HOYS and Olympia in 2011 and 2012 respectively and Prince of Peace's daughter Atlantic Teal who have been reserve champion at the British ridden show.
Several of Errisbeg Rose's progeny passed though the Spinway stud in England. In 1983 Sarah Hodgkins was finally allowed to buy Rose herself and her last foals were born at the Spinway stud. In England Errisbeg Rose was awarded a super premium for her many good offspring. The close relations between Ireland and the UK remained though Rose's daughter Spinway Snowbird, who was exported back to Ireland. Her daughter, Boden Park Snowgoose, in turn journeyed back to the UK and where she has had foals at the Sydserff and Woodbanks studs. Like her daughter Spiddal Rose, Errisbeg Rose was fertile well up in her twenties and had her last daughter in 1987, when she was 23. The foal, Spinway Celebration has been very successful in the show ring. She started off by being youngstock champion at the British breed show when she was three and she won her class also in 1998 and 200 and was also Supreme Champion in 2002.
Good fertility well after turning twenty seems to be a recurrent trait in the family. Dolan Rose did not settle with Errisbeg Rose, born when she was 20 years old. Instead she had foals both at 22, 24 and she had her last foal in 1969 at the age of 25. Unfortunately it seems like neither of her younger daughters have continued the mare family to present days. The youngest registered member of the family descending from either of Dolan Rose's three youngest daughters is Fenella born in 1978. Not even with the fertility Dolan, Errisbeg and Spiddal Rose have shown can we hop there are any surviving branches of the family that can be revived. Good thing Errisbeg Rose has done her part in ensuring that Dolan Rose's mare family is well represented in many of the countries of today's Connemara world.
Dolan Rose CSB 1132 (Ire)


Mac Dara CSB 91 (Ire)


Inishnee Lady CSB 2704, DEN 46 (Ire, Den)


Holens Irish Blue (Den)


Holens Lucifer (Den)


Holens Inia (Den)


Holens Ingolf RC 19 (Den, Swe)


Holens Iris RC 244 (Den, Swe)


Ihro (Swe)


Silver Gray (Swe)


Tempo (Swe)


Primo (Swe)


Holens Indianna DEN 133 (Den)


Holens Idaho (Den)


Holens Ikaros (Den)


Errisbeg Rose CSB 2895, GBRM 273 (Ire, GBR)


Spiddal Rose CSB 5281, RC 220 (Ire, Swe)


Hummelbro Rosett (Swe)


Chagalla Rose (Swe)


Hannibal (Swe)


Windy Star (Swe)


Hummelbro Stella RC 545 (Swe)


Hagens Nicole RC 696 (Swe, Nor)


Hagens Rosie RC 1067 (Swe)


Snow-Ball (Swe)


Hagens Tico (Swe)


Hagens Unik (Swe)


Hagens Viktor (Swe)


Hagens Xtra RC 1013 (Swe)


Nordlias Fame (Nor)


Mazcara (Swe)


Hummelbro Harry (Swe)


Spiro Jagger (Swe)


Castlan Rose (Swe)


Caspin Rose (Swe)


Spiro Invito (Swe)


Spiro Inherit (Swe)


Spiro Invain (Swe)


Van de Arenbosch Davey I 16 (Ire, Nl)


King's Ransom CSB 584, NPS 6427 (Ire, GBR, Fra)


Michael Kim I 23 (Ire, Nl)


Gurteen Nora CSB 6649 (Ire)


Gurteen Rose CSB 8285 (Ire)


Shanes Glory CSB 13266 (Ire)


Errisbeg Dolly CSB 6940 (Ire, GBR)


Ballyclare Lass CSB 8222 (Ire)


Carnbeg Nora CSB 8568 (Ire)


Roundpark Nora CSB 10200 (Ire)


Coral Killineen Leap CSB G 2907 (Ire)


Noreen GBRM 1648 (GBR)


Copshawholm Clara Beg GBRM 1810 (GBR)


Copshawholm Forest Spirit Ge 1899 (GBR)


Darnic Diamond Diva GBRM 2427 (GBR)


Craigmead Corra Beg (GBR)


Copshawholm Princeton Boy Ge 2032 (GBR)


Copshawholm Northern Song (GBR)


Copshawholm Kerry Whistler (GBR)


Copshawholm Celtic Dawn (GBR)


Copshawholm Golden Rhythm (GBR)


Copshawholm Grey Dawn (GBR)


Copshawholm Oakley Ridge (GBR)


Copshawholm Agnes Riley (GBR)


Copshawholm Saucy Sal (GBR)


Rita's Lass CSB 13029 (Ire)


Coolin Lucy CSB 13039 (Ire)


Mystical Bobby Lane CSB 3892 (Ire)


Coolin Lucky Star CSB G 2824 (Ire)


Lucky Star CSB G 2824 (Ire)


Lurganvelle Buttercup CSB.3 25124 (Ire)


Lisnalee Honey CSB 17027 (Ire)


Kilbed Talisman Star CSB G3 3724 (Ire)


Menah (Ire)


Chica Chubb (Ire, Swe)


Killyreagh Mistral CSB G 1359 (NIre)


Bar Bar A's Rebel Doll USAM 1317 (Ire, USA)


Bar Bar A's King's Patty USAM 1459 (USA)


Kent's Paddington (USA)


Kent's Nutmeg USAM 2152 (USA)


Kent's Miss Marple USAM 3602 (USA)


Bushmills of Kent USAS 631 (USA)


Kent's Silver Sixpence USAM 1714 (USA)


Roscommon Lochlainn G 972 (USA)


Roscommon Liadan USAM 3592 (USA)


Roscommon Braedan G 1049 (USA)


Kent's Hosannah USAM 1826 (USA)


Kent's Irish Harp G 2152 (USA)


Kent's Irish Turf G 2297 (USA)


Tullymor's Kiss of the Sun USAM 2107 (USA)


Kerstin CSB G 1300 (Ire)


Grey Rock Bonner CSB 928 (Ire, Ger)


April Dolly CSB 9538 (Ire)


Cool Dancer CSB 10063 (Ire)


Knocknagree Silver CSB 12130 (Ire)


Knocknagree Strand SR 46 (Ire)


Beach Boy CSB G3 4202 (Ire)


Ballymoe Isa GBRM 1459 (GBR, Aut)


Westside Dancer CSB 12012 (Ire)


Bina G CSB 13924 (Ire)


April Rose CSB 10331 (Ire)


Grey Rock Tina CSB 11966 (Ire, Fra)


Rebel Larry CSB G 2861 (Ire)


Glencarrig Amanda CSB 12953 (Ire)


Glencarrig Róisín CSB 13205 (Ire)


Mountain Prince CSB G3 4372 (Ire)


Mountain View Nemelisa CSB 15757 (Ire)


Glencarrig Sparrow CSB 1165 (Ire)


Glencarrig Mulligan Grey Mist CSB.2 1245, Ge 2173 (Ire, GBR)


Glencarrig Primrose GBRM 2025 (Ire, GBR)


Glencarrig Rose CSB 15418 (Ire)


Glencarrig Rose Marie CSB 18428 (Ire)


Glencarrig Ri CSB 5553 (Ire)


Larry Conneely Ge 888 (GBR)


Letterdyfe Dolly CSB 11504 (Ire, GBR)


Glencarrig Fiona CSB 13204 (Ire)


Glencarrig Joe CSB 5090 (Ire)


Letterdyfe Willow CSB 13514 (Ire)


Emlagharan Duchess (Fra)


Ivy Rock Prince CSB.2 1268, Ge 2622 (Ire)


Letterdyfe Jaguar CSB.3 3016 (Ire)


Letterdyfe Ruby CSB 12391 (Ire)


Brona CSB 15124 (Ire)


Letterdyfe Galway Bay CSB.3 7343 (Ire)


Letterdyfe Rose CSB 15569 (Ire)


Letterdyfe Rachel Rose CSB 19948 (Ire)


Letterdyfe Fuschia GBRM 2114 (Ire, GBR)


Damerel Rebel Boy (GBR)


Letterdyfe Rira CSB 3170 (Ire)


Spinway Rose GBRM 1728 (GBR)


Spinway Rendezvous Ge 2428 (GBR)


Spinway Rememberance GBRM 2352 (GBR)


Toxi Baun Bob (Ger)


Atlantic Rose CSB 7753 (Ire)


Atlantic Lily CSB 8587 (Ire)


Aran Suzy CSB 9231 (Ire)


Westside Padraig (Ire, Swe)


Cnoc na Mona Cailin CSB 11058 (Ire)


Ross Junior CSB G 2807 (Ire)


Celtic Aran Mist CSB 14745 (Ire)


Bullet CSB G 3469 (Ire)


Lowerybane Lily CSB 12784 (Ire)


Castleside Conall CSB.2 1202 (Ire)


Atlantic Sea Grey Rose CSB 8653 (Ire)


Tawin Coral CSB 9658 (Ire)


Rock Coral CSB 10806 (Ire, NIre)


Pictus Blarney Stone (GBR)


Rockstar Riley McCool (GBR)


Small Tawin Talk CSB 10072 (Ire)


Millbrook Lady CSB 13448 (Ire)


Meelickisland Coral Star CSB 14613 (Ire)


Meelickisland Lady CSB 17573 (Ire)


Creevy Girl CSB 12210 (Ire)


Siskin Lad CSB G 3048 (Ire)


Ballybane Rose CSB 13398 (Ire)


Ballybane Nancy CSB 14072 (Ire)


Atlantic Raven CSB 872 (Ire)


Atlantic Beauty CSB 9482 (Ire)


Atlantic River CSB 11974 (Ire)


Atlantic Dolly CSB 12368 (Ire)


Dusty CSB.3 6420 (Ire)


Dangan Exchange CSB 13549 (Ire)


Innellan Peace RC 1212 (GBR, Swe)


Långarnö Penny RC 1347, NC 101 (Swe, Nor)


Inglingstad Eponines (Nor)


Inglingstad Pia (Nor)


Långarnö Patrick Jr (Swe)


Långarnö Pauline (Swe)


Carlingford Illusion GBRM 1924 (GBR)


Spinway Bliss GBRM 2187 (GBR)


Miss Molly (GBR)


Atlantic Flyer CSB G 1724 (Ire)


Hearnsbrook Mairtin CSB G 1963 (Ire)


Atlantic Bud CSB 11160 (Ire)


Cara Mai GBRM 2496 (GBR)


Atlantic Lady Joan CSB 11926 (Ire)


Furbo Aedín Rose CSB 13353 (Ire)


Lissnaught Hawk CSB G3 4002 (Ire)


Furbo Rose CSB 14909 (Ire, GBR)


Atlantic Royal Rose GBRM 1593 (Ire, GBR)


Atlantic Spartacus CSB G 3297 (Ire)


Atlantic Summer Rose CSB 14748 (Ire)


Enbarr Hermione (GBR)


Enbarr Harry (GBR)


Enbarr Luna Lovegood (GBR)


Atlantic Irish Rose CSB 18889 (Ire)


Atlantic Life Ge 2169 (Ire, GBR)


Atlantic Peace CSB 7903 (Ire)


Atlantic Pride CSB 8588 (Ire)


Ballybawn Bay Hill CSB 10057 (Ire)


Rathlinn Dancer CSB 12810 (Ire)


Dreamer of Cashelane CSB G 3782 (Ire)


Aughris Rebel GBRS 227 (Ire, GBR)


Rathlinn Woodman CSB G 2917 (Ire)


Rathlin Robin CSB.2 1394 (Ire)


Atlantic Prince CSB G 1521 (Ire)


Atlantic Erne Dawn CSB 10923 (Ire)


Atlantic Promise GBRM 1206 (Ire, GBR)


Braemar Be Lucky Ge 1304 (GBR)


Braemar Priceless GBRM 2034 (GBR)


Sirius Bright Star (GBR)


Braemar Prima GBRM 2199 (GBR)


Braemar Patience GBRM 2332 (GBR)


Braemar Peace (GBR)


Atlantic Prince of Peace CSB 1040, Ge 1622 (Ire, GBR)


Atlantic Secret Pearl CSB 11672 (Ire, GBR)


Lockinge Poppy GBRM 1880 (GBR)


Lockinge Peppermint GBRM 1956 (GBR)


Lockinge Peter Ge 2254 (GBR)


Lockinge Periwinkle Ge 1843 (GBR)


Kittsgate Pirate Ge 1951 (GBR)


Atlantic Lord of the Ring Ge 1353 (Ire, GBR)


Atlantic Joy CSB 12648 (Ire)


Atlantic Queen of Peace CSB 13077 (Ire)


Atlantic Apollo Ge 2282 (Ire, GBR)


Atlantic Tiger CSB 1653 (Ire)


Atantic Ocean CSB 18026 (Ire)


Atlantic Lad (Ire)


Atlantic Dove GBRM 1700 (Ire, GBR)


Haselor Sun King (GBR)


Haselor Topaz GBRM 2464 (GBR)


Haselor Peridot GBRM 2531 (GBR)


Atlantic Secret Charm CSB 15386 (Ire)


Atlantic Deep Secret CSB 17690 (Ire)


Atlantic Queen (Ger)


Atlantic Duke / Mill Phantom CSB G 1082 (Ire, Fin)


Spinway Prosperity GBRS 39 (GBR)


Spinway Snowbird GBRM 452, IM 2 (GBR, Ire)


Spinway Mischief GBRM 704 (GBR)


Spinway Cameo Ge 581 (GBR)


Boden Park Snowgoose CSB 10467 (Ire, GBR)


Sydserff Swan GBRM 1985 (GBR)


Woodbank Swallow GBRM 2069 (GBR)


Woodbank Martin (GBR)


Woodbank Swift Ge.2 2557 (GBR)


Boden Park Cracker CSB G 2220 (Ire)


Boden Park Snowday CSB 12166 (Ire)


Boden Park Carnsdale Silver Shadow Ge 2556 (Ire, GBR)


Spinway Keepsake GBRS 51, IS 1 (GBR, Irl, Aut, Ger)


Spinway Celebration GBRM 652 (GBR)


Celebrity Rose GBRM 1597 (GBR)


Rosa Mundi (GBR)


Lisnakea Lily CSB 3440 (Ire)


Mostrim Maid CSB 4610 (Ire)


Castle Stella CSB 5995 (Ire)


Karina CSB 6986 (Ire)


Fenella CSB 7318 (Ire)


Carnmore CSB 6766 (Ire)


Eshbane Rose CSB 6767 (Ire)


Daisy CSB 6989 (Ire)


Miss Weston CSB 4072 (Ire)


Rinn Rose CSB 4286 (Ire)


Rhinn Ruby CSB 5621 (Ire)
© Jenny Hagenblad, 2013