Retreat IRE 320
One successful mare family has its origin in Retreat IRE 320. She was born in 1931 and is one of the stallion Rebel's daughters. Retreats two oldest daughters, Joyce Grey and Zetland Grey are both registred as born in 1942, but this is more likely a mixup of the birth years rather then a twin birth. Zetland Grey had no registred offspring, but Joyce Grey is well known as the dam of the stallion Clonjoy. Clonjoy was the sire of many ponies. Here in Sweden we have among others Joy of Abbeyleix, Lambay Joy, Lambay Lady and Marley Glen. One of Joyce Grey's daughters, Lor Blue Bell, is the dam of the stallion Moycullen Bobby in Ireland and was later exported to the Netherlands where she gave birth to Dutch Boy Bel. Dutch Boy Bel later found his way to Sweden. He's not registred in the Swedish stud book, but is all the same the sire of the competition ponies Isco and Irmin, the latter of whom was awarded a silver at the 1982 in hand show.
In 1944 Retreat's only registred son was born. Silver King was like Joyce Grey and Zetland Grey by Silver Pearl, an early stallion who left a number of good daughters. Silver King was one of only two registred sons of Silver King, but sadly he never had the chance to prove himself as a sire as he as a two-year-old was exported to India.
The following year Retreat had another daughter by Silver pearl, Ruby Queen. Her oldest daughter, Silver Fame, was exported to the UK where she became the dam of the stallion Silver Snow, Sonly registred son of Snowball. Silver Snow was awarded a Ridden Progeny Premium for his performance offspring and in Sweden he's the grandsire of the stallions Nicholas Kamik and Öxenholm Bobby.
Another of Ruby Queen's daughters stayed in Ireland. Pollyanna has among her descendants many ponies who have been successful at the Clifden show: Curragh Dun was 3rd as a foal and 2nd the following year; Shining Flame, 1st as a yearling and 3rd as a foal, two and three-year-old; Kingstown Gold, 1st as a four-year-old; Anna Garbally 2nd at the same age and a colt foal out of Pollyanna's Parade who was 2nd in 1979, but who's name I haven't discovered. An approved son of Kingstown Gold, Glenayre Silver Fox, was second in the Irish performance test in 1997.
One of Pollyanna's daughters, Ruby Anne, was one of the early connemara mares imported to Sweden and she was entered in the first volume of the Swedish Connemara stud book as number 14. Among her descendants are silver awarded Lambor Ghina and her son Lantz who has participated in quality testing and competed in show jumping. Another Pollyanna descendant to compete in the Swedish show jumping circuit is Harry out of the above mentioned anna Garbally. Other drops of Ruby Queen blood has come to Sweden in the form of Water Baby. Her dam, Barna Queen, was exported to the UK and was there the dam of among others Rowanna of Bradley. Rowannas half bred son Cold Harbour Sainfoin has competed in international eventing and was reserve for the British team for the European championships in 2000.
Ruby Queen's next daughter, Ceili of Leam, also found her way to the UK. Here she gave birth to Candlelight of Calmore, another of the early Swedish Connemaras, and unusual in the respect of being a BEC entered in the stud book. Her half bred daughter Claudia was a successful dressage pony in the 80ies. Another of Ceilis daughters, Sydserff Doon Charm, qualified for the Mountain and Moorland Ridden Championship at Olympia for two years running. Other successes under saddle comes through a third Ceili daughter, Great Bradley Anemone, who's daughter Great Bradley marguerite has done well in the British Performance Award Scheme.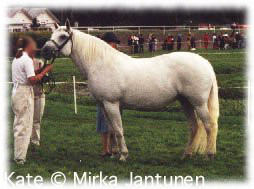 After four Silver Pearl foals Retreat had her last two foals by the Irish Draught sire May Boy. The Irish experimented for a while with the Irish Draught blood. In most cases the result didn't make any deeper impact, but Retreat's half bred daughters have not passed unnoticed. Oldest of the two was Ruby who only had one registred offspring, the daughter Lissoughter Dolly. Dolly is the dam of the successful stallion Kilgreaney lad, father of the British Super Premium stallion Smokey Shan and the full Sisters Spratt Lady, several times in the ribbons at Clifden show, and Grey Ladyfriend, Swedish Elite mare. In Finland Kate, a grand daughter of Lissoughter Dolly, has been successful. In the show ring she was mare champion at the 2002 breed show, and as a brood mare she has the daughter Coneridge Sunbeam, mare champion and reserve best of breed at the national pony show in 2001.
Retreats last daughter is probably the one who's made th deepest impact on the Connemara breed, at least in Britain. May Retreat was born in 1950 and won her class at Clifden show as a five-year-old. She had two foals in Ireland before being exported when she was eleven to the UK. There she was renamed Rosenaharley may Millis and became foundation mare at the Rosenaharley stud where she formed a successful partnership with the stallion MacNamara.
Of May Retreat's British foals five became registred stallions. Oldest of the five was Padraigh of Rosenaharley. Padraigh was exported to Denmark in 1964 and sire among others the Elite mare Majgaardens Cait and many successful performance ponies like the Swedish export Ravnborg Corona. Padraigh's two half brothers, the full brothers Rosenaharley Mac Mahon and Rosenaharley mac Milo were also exported to Denmark. Mac Mahon only left a handfull of offspring, but Mac Milo was more successful at the Holen stud. He is the sire of the Ellite mares Holens Samatha, Majgaardens Luna, Holens Smut and Öxenholm Bardot. The two latter were successful at the international shows at Roskilde. In Sweden Mac Milo is the sire of Holens Camille, the stallion Holens Ingolf and others. Another two of May Retreat's sons with MacNamara were used as stallions in the UK. Rosenaharley Mac Manus had a minor impact, but Rosenaharley Cormac has been very successful. He's a Super Premium stallion and in 1983 he won the progeny class at the Brittish in-hand show. Among his daughters isRosenaharley Laurin, Super Premium mare, winner of the Mountain and Moorland Ridden Championship at Olympia and five-fold breed show champion. Cormac is also the sire of other successful ponies: Rosenaharley Luriston, Rosenaharley Rossita and the Finnish export Gaelic Silver Mist, successful show and performance pony.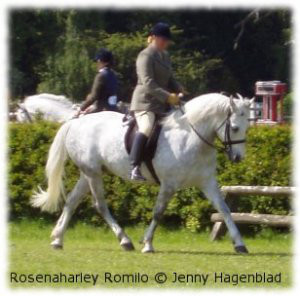 May Retreat's daughters aren't far behind their brothers. Together they have left a strong R line at the Rosenaharley stud and also spread the family to other studs and countries. Rosenaharley Ronamara is the dam of the stallion Rosenaharley Rowley who was exported to Ireland and subsequently won the class for two and three-year-old stallions at the Clifden show. He later sired the 1984 winning filly foal, Atlantic Lily. Another export was Ronamaras oldest daughter, Rosenaharley Coronagh. In Denmark she gave birth to a surviving pair of twins, Ll. Bredvigs Nurmi and Nusser. Their sisters Gwendolin and Isabella waas exported to Norway. Another Ronamara daughter, Rosenaharley Ronaha was champion at a British local show some years back.
The next daughter, Rosenaharley Rinnamara became foundation mare at the Hearnesbrook stud. Her show success involves winning the older brood mare class at the 1986 British in-hand show. She is also the dam of the Super Premium stallion Hearnesbrook Fastnet, who in Sweden has the show jumping daughter Mistral Rose. When Rinnamara was 15 she was ridden all the long way from Norfolk to Devon when her owner decided to make a ride of his planned visit to a good friend. It was later discovered that Rinnamara had been in foal during the long ride and the foal that was born the following year was given the suitable name The Passenger. May Retreat's youngest daughter, Rosenaharley Rincenamara, was exported to Australia where she has both daughters and granddaughters.
Before May Retreat was sold to Brittain she had two daughters in Ireland. The oldest, Lady May, won the class for two-year-old fillies in 1960, but has unfortunately not left any registred offspring. The second daughter, Autumn Retreat, was exported to Germany in 1965. Twelve years later Dolly, as she became known in Germany, became champion mare at the German in-hand show. One of her sons, Iltschi, has been fairly successful as a stallion and is the sire of the Stats premium mares Ilka and Iris. A grandson of Dolly's, Lincoln, out of Bantry Lily, is also a premium mare sire through his daughter Windy. And one of Dolly's daughters, Daisy Grey, was the dam of one of the few foals Strongbow sired in Germany. Anothre of Dolly's sons, the gelding Grey Dandy made his way to Sweden and became a successful show jumper during the late 70ies and the 80ies. In 1980 he was the most successful show jumping connemara in Sweden and fith with all breeds accounded for.
Looking in the first volume of the Swedish Connemara stud book, the stallion Lambay Inver has Retreat entered as great granddam. The Irish stud book lists Winning Ways without a known pedigree, but also without the feather in the cap Lambay Inver would be to any mare family, it is safe to say that Retreat and her descendants have done their part for the Connemara breed around the world.
---
Photo of Kate by courtesy of Mirka Jantunen
Kate was also champion mare at the breed show in 2003 and Coneridge Catriona was the champion mare at the national pony show. In December Kate was also avarded an AB premium for her offsprings. The photo shows Kate being judged at the national pony show in 2001.

Mirka Jantunen, Finland
---
Retreat IRE 320


Joyce Grey IRE 933


Lor Blue Bell IRE 1712


Moycullen Bobby IRE 154


Whiteface Tim IRE G 215


Moy Blue Belle IRE 3755


Glenavoo Sally IRE 5044


Cara Mor IRE G 780


Dutch Boy Bel (Swe)


Carn Dun Belle


Famous Mac


Clonjoy IRE 117


Griselda IRE 2161


Zetland Grey IRE 940


Silver King IRE 66


Ruby Queen IRE 1085


Silver Fame IRE 1448, GBR 10418 (UK)


Silver Snow GBR 3890 (UK)


Hungry Hall Adam IRE 301 (UK)


Heather Queen IRE 1654


Pollyanna IRE 2138


Pretty Polly IRE 2354


Merryman IRE 359


Castletown Jenny IRE 5747


Ruby Anne IRE 2547, RC 14 (Swe)


Luric (Swe)


Silver II (Swe)


Ruby Star (Swe)


Rubino (Swe)


Grey Mister (Swe)


Ruby King (Swe)


Murvel (Swe)


Ruby Light RC 379 (Swe)


Lambor Ghina RC 491 (Swe)


Lantz (Swe)


Stingray (Swe)


Ruby White (Swe)


Ruby Boy (Swe)


Ruby Grey (Swe)


Movie Star (Swe)


Jingel Bell (Swe)


Storm II (Swe)


Ruby Star II (Swe)


Pollyanna's Jewel IRE 2921


Jag IRE 4329


Limnaugh Larry IRE G 462


Pollyanna's Parade IRE 5813


Kangort Queen IRE 7464


Garbally Gay Girl IRE 7081


Garbally Goldilocks IRE 7787


Anna Garbally IRE 8185


Harry (Swe)


Shining Flame IRE 8298, M 875 (UK)


Sillbridge Touchstone Ge 593 (UK)


Kingstown Gold IRE 9032


Glenayre Silver Fox IRE 1028


Curragh Dun IRE 6478


Gregory IRE G 501


Kylemore Kevin IRE 537


Barna Queen IRE 1848, GBR 12058 (UK)


Water Baby (Swe)


Mistake (Swe)


Sabina (Swe)


Robin (Swe)


Rowanna of Bradley IRE 4436, GBR 13104 (UK)


Cold Harbour May M 39 (UK)


Cold Harbour Willow M 135 (UK)


Cold Harbour Sainfoin (UK)


Cold Harbour Hornbeam (UK)


Cold Harbour Hawthorn (UK)


Great Bradley Barley IRE 4590 (UK)


Spinway Barman (UK)


Spinway Romany Queen IRE 6313, GBR 15971 (UK)


Spinway Tinker Ge 195 (UK)


Ceili of Leam IRE 1848, GBR 12058 (UK)


Candlelight of Calmore GBR 12608, RC 16 (UK, Swe)


Claudia (Swe)


Sydserff Doon Charm IRE 7642, M 36 (UK)


Sydserff Barnadoon IRE 7536, M 109 (UK)


Great Bradley Anemone GBR 15486 (UK)


Great Bradley Corallina GBR 17266 (UK)


Halesworth Golden Dawn M 416 (UK)


Playwood Perfection M 933 (UK)


Great Bradley Vinca Ge 40 (UK)


Great Bradley Sweet William Ge 189 (UK)


Great Bradley Marguerite M 286 (UK)


Great Bradley Tilley M 618 (UK)


Westend Connock (UK)


Great Bradley Quest (UK)


Great Bradley Inquisitor (UK)


Bohesial Queen IRE 3156


Goroman Dark Queen IRE 5698


Lissoughter Lucky Queen IRE 5699


Ben Glan Isce IRE G 798


Ruby IRE 1219


Lissoughter Dolly IRE 1626


Kilgreaney Lad IRE 216


Letterbricken Dolly IRE 4404


Mountain Rambler IRE 5708


Lissoughter Laura IRE 6453


Kate 128 IC (Fin)


Coneridge Sunbeam 153 C (Fin)


Ajoksen Jessica (Fin)


Coneridge Catriona (Fin)


Coneridge Caramel (Fin)


Coneridge O'Connor (Fin)


Lissoughter Cora


May Retreat/Rosenaharley May Millis IRE 1569, GBR 12320 (UK)


Lady May IRE 2018


Autumn Retreat/Dolly IRE 2192 (Ger)


Fury IRE G 219


Bantry Lily (Ger)


Irish Prince (Ger)


Lincoln (Ger)


Bantry Eileen (Ger)


Lady Blue (Ger)


Lady Brisca (Ger)


Lady Blath (Ger)


Lilly (Ger)


Grey Dandy (Swe)


Daisy Grey (Ger)


Dolly Rose (Ger)


Iltschi (Ger)


Dorle (Ger)


Padraigh of Rosenaharley GBR 4348, CH 2 (UK, Den)


Rosenaharley Ronamara IRE 2778, GBR 12681 (UK)


Rosenaharley Coronagh GBR 13623, C 57 (UK, Den)


Majgaardens Shannon (Den)


Majgaardens Apostrof (Den)


Majgaardens Sovereign (Den)


Majgaardens Corinna C 194 (Den)


Ll. Bredvigs Gwendolin NC 9 (Den, Nor)


Jolly (Den)


Sölvslettens Gemini (Nor)


Ll. Bredvigs Isabella C 387, NC 26 (Den, Nor)


Ll. Bredvigs Laban (Den)


Ll. Bredvigs Nurmi (Den)


Ll. Bredvigs Nusser (Den)


Majgaardens Sean (Den)


Rosenaharley Rohais IRE 5357 (UK)


Rosenaharley Roman (UK)


Rosenaharley Romance M 76 (UK)


Rosenaharley Rowley IRE 755 (UK)


Rosenaharley Rowanberry Ge 125 (UK)


Rosenaharley Romarie M 361 (UK)


Rosenaharley Romanus Ge 409 (UK)


Rosenaharley Romilo Ge 897 (UK)


Rosenaharley Romello Ge 1094 (UK)


Rosenaharley Roden Ge 277 (UK)


Rosenaharley Roland Ge 370 (UK)


Rosenaharley Ronella M 542 (UK)


Bridmore Rony's Mantilla (UK)


Rosenaharley Ronaha (UK)


Rosenaharley Ronanor (UK)


Rosenaharley Rondolpho Ge 1095 (UK)


Rosenaharley Ronin (UK)


Rosenaharley Rohannan (UK)


Rosenaharley Cormac GBR 4509 (UK)


Rosenaharley Mac Milo IRE 233, GBR 4560, CH 5 (UK, Den)


Rosenaharley Mac Mahon GBR 4655, CH 7 (UK, Den)


Rosenaharley Rinnamara IRE 4893, GBR 13648 (UK)


Hearnesbrook Fastnet GBR 6322 (UK)


Hearnesbrook The Passenger Ge 373 (UK)


Hearnesbrook Bali M 574 (UK)


Hearnesbrook Bucks Fizz (UK)


Hearnesbrook Rameses Ge 560 (UK)


The Rabbit (UK)


Rosenaharley Rynamara GBR 14688 (UK)


Rosenaharley Ryan Ge 437 (UK)


Rosenaharley Ryland Ge 278 (UK)


Rosenaharley Rymar (UK)


Rosenaharley Rincenamara AUS 1100 (UK, Aus)


Kilkieran Rinamee AUS 1449 (Aus)


Mayo Estelle AUS 1591 (Aus)


Kilkieran Kirsten Macneill AUS 1574 (Aus)


Garnet Kavalier (Aus)


Shelford Downs O'Mahoney (Aus)


Shelford Downs Rosarana AUS 1383 (Aus)


Shelford Downs Twinkle AUS 1285 (Aus)


Rosenaharley Mac Manus GBR 4819 (UK)


May Retreat IRE 1569, GBR 12320 (UK)


© Jenny Hagenblad, 2003